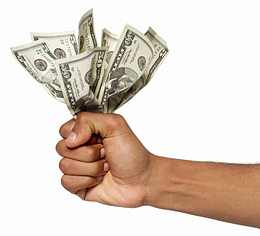 As a business owner, you're like the quarterback of a football team. The key to being a great business quarterback is the ability to be nimble and make the best play available. To do that, a business owner always needs access to cash. You have to constantly look down the field and make assessments of what you need to do to achieve your goals before you take action. You always strive to execute the action or play you believe has the highest probability of success. Scan the field constantly looking at your offense, look at your competition's defense, play after play. In business it's the same thing. You constantly need to evaluate:
Sales/Marketing
Operations
Human Resources
Invoicing/Collections
And much more …
Many business owners have come to the realization that having a finance company involved in their business builds critical internal process and discipline, which helps them run more efficiently. Furthermore, this extra set of eyes on the business is like having a line coach available to see possible blind spots. Factoring companies are uniquely positioned to assist companies as financial partners because they are keenly focused on accounts receivable, or AR. AR is the lifeblood of most businesses. Why? Because AR is money out there just waiting to be collected, based on work already completed or goods already shipped.
If you look at the list above, as the business quarterback you're constantly trying to assess and keep tabs on those critical items. Usually, you make productive business choices if you have ample access to cash. Let's look at some of those items above and see some choices available to you if you have extra cash.
Sales & Marketing -- Extra cash available allows you to invest in new marketing initiatives that boost future sales.
Operations -- Extra cash available allows you to invest in new technology to streamline processes that have an easily quantifiable return on investment.
Human Resources -- Extra cash allows you to add critical staff to support business functions currently under-resourced.
Invoicing/Collections -- When you partner with a factoring company, they make extra cash available with their invoice factoring process. Factoring companies even have tools available to help you outsource your invoicing and customer mailing.
The benefit of working with factoring companies is actually twofold. On the one hand, the factoring company is vigilant in its focus on your accounts receivable, just the extra set of eyes you'd appreciate on your business. On the other hand, their ability to provide cash flow financing based on the accounts receivable provides you with the additional money you need to take any decisive initiative you choose.
Two other value-added services from invoice factoring companies:
Operational cost savings -- companies using invoice financing often save money on operational processing items such as invoicing and mailing.
Evaluating new customers -- The extra set of eyes mentioned above is very helpful to small businesses when it comes to taking on new customers. You don't want to do a lot of work for a company to only find out later the customer is very slow to pay, despite their reputation of being a great or large company. A factoring company helps you with this credit evaluation ahead of time before you do the work or ship the goods.
Fast A/R Funding specializes in helping small businesses bridge the cash flow gap with factoring. Download our informative "Factoring 101" guide, or call 888.833.2286 to speak with one of our cash flow consultants.