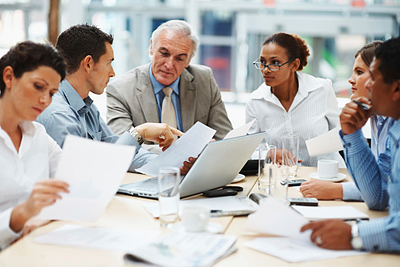 I read recently that the Affordable Health Care Act, also known as Obama Care, may unintentionally help spur a boon in the staffing industry. The impact of the Affordable Health Care Act is, of course, highly debated, and will likely continue to be debated long into the future. While I believe the trend towards more part time workers and temporary workers was already set in motion after the recession began in 2008, the outcome remains the same. The staffing industry as a whole has been given a bullish outlook by many market analysts. In fact, we've already seen a steady growth pattern over the last few years.
The Staffing Industry Is Growing. Will You?
By their very nature, staffing companies require steady cash flow in order to meet the demands of payroll. Without the ability to increase payroll, staffing agencies won't be financially positioned to increase hires, bid larger projects, and take advantage of growing demand. Our staffing factoring services are built on a comprehensive understanding of your billing processes, and a desire to help you achieve your specified goals.
Turn your time sheets and invoices into cash within hours of submitting them to Fast A/R Funding. Get same day or next day access to up to 90% of the invoice amount. The opportunities to grow your business are endless with access to cash you previously had to wait weeks or maybe months to receive from your customers. We take care of billing your customers, and assist in collection. You save time, worry less, and can truly focus on executing the strategy required for your agency's success.
What Staffing Industries Qualify?
Temporary

Temporary-to-hire

Direct Hire

Executive Placement

Medical

Technology

General Labor

Skilled Labor

Transportation
Fast A/R Funding knows that as a staffing agency you're working hard to serve your community by helping individuals find jobs and helping businesses fulfill their human capital requirements. The benefits of factoring can help you achieve your goals and better serve your customers. We'll work hard to serve your staffing agency regardless of your industry focus. While you're helping your customers maximize productivity and profits, don't overlook your own ability to maximize liquidity and increase your cash flow. The benefits cannot be ignored.
Numerous Benefits
Low Cost Working Capital
Easy Application And Approval
Meet Payroll Demands With Confidence
Take On Larger Orders And More Of Them
Eliminate the 30-45-60 Day Delay Of Payment
Fast Access To Funds For Strategic Marketing Efforts
Expand Your Client Base Beyond Your Existing Industry Profile
Peace Of Mind Knowing You Have Increased Financial Stability
Access to Fast A/R Funding's Reporting Functions In Your Dedicated Client Portal
Spend More Time Building Your Business, And Less Time Worrying About Collection
Flexible Factoring Agreements With Limited Volume Requirements And Term Commitment
Avoid Bad Debt With Customer Credit Evaluation Services Included With Your Factoring Facility
Our Processes Are Quick and Easy.
Staffing factoring approval and funding is simple. Once you've applied, underwriting and initial approval on straightforward applications are usually completed within forty-eight hours. Our dedicated team of professionals will provide you with access to your own client portal where you can upload invoices, track aging and collection, and request funding. Additionally, you'll be assigned an account executive with a limited client list so you can get to know them, and be sure any issues requiring quick resolution receive their timely attention. We offer daily funding to our clients with the option of establishing standing orders for regular funding without the need for you to enter a request. Our proprietary software and client interface provide you with intuitive navigation features and a wide range of transaction reporting to assist you with your own record keeping and reconciliation.
Why Wait To Get Started?
If you're still reading this article, then I'd venture to guess that you've already determined that your agency could benefit from increased financial stability and quicker access to the cash that's yours to tap. Perhaps you're still debating about taking that first step to explore a relationship with a factor. With benefits far outweighing cost, and little commitment, why wait? I highly encourage you to give us a call and get the ball rolling. A staffing factoring facility can be an integral part of a growth strategy that will favorably position your agency to meet growing industry demand. Whatever you decide, we wish you the best in your business venture.