Factoring is a way to finance a business that is in need of cash flow and/or experiencing growth. Factoring provides immediate cash in exchange for invoices. Factoring is the purchase of accounts receivable giving businesses control over how and when they can grow without creating debt on their balance sheet. Usually taking 7-10 business days for the initial funding, factoring can be set up for a business in a few simple steps.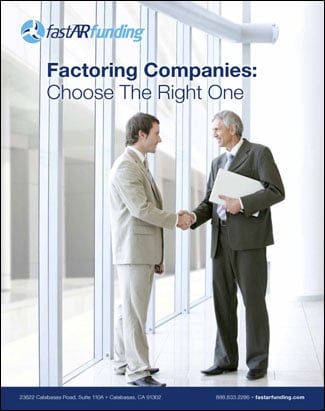 First you get pre-approved:

It's easy to finance your receivables for immediate cash at Fast AR Funding once you have been pre-approved. The steps are as follows:

1. We establish a credit limit on the customers you submit to factor: Your customer's creditworthiness is most important to us because that is ultimately how we are repaid once we advance against invoices.
You provide us with your customer's business name, address, and peak receivable balance with said customer.
We pull credit to determine what amount (if any) we can approve - We have online reporting services that we use, allowing us to review the financial wherewithal of your existing and new customers. This is an added value service to our program as it has saved our clients potential losses.
2. You submit information regarding your business and the owners of your business – All the while you continue to send customers your invoices for services and/or products you have delivered.
We are happy to advance against invoices you have already sent to your customer as we realize holding on to invoices can delay payment. After the initial funding, we will ask you to start sending original invoices to us…but not until that time.
3. We issue documents to you electronically.
Once signed, you will typically be able to start submitting invoices within a day's time.
4. You upload your invoices directly to Fast AR Funding's website. Fast AR Funding is a paperless company therefore stream lining the process to get you funded quickly.
You will have a username and password that logs you into our system, expediting the submission of your invoices and keeping all of your information confidential.
Attach any back up paperwork that you usually send to your customer
4. We verify that product was received or services performed AND that payment can be changed to our 'remit to" address.
You provide us with and introduce us to your customer so that we can complete our due diligence on your invoice(s).
5. You receive your funding
We wire or ACH funds into your bank account
The process of factoring your invoices to finance cash flow and growth is quite simple and the benefits are great. A business can become a client within a few weeks by following the steps outlined above, allowing you to take advantage of discounts with your suppliers, take on business you passed up before, offer terms to good paying customers, and meet growing payrolls.
Your individual needs are carefully considered when you work with Fast AR Funding. For more information or if you have questions, please contact Jan Ziegler, 503-224-9963 or jziegler@fastarfunding.com.