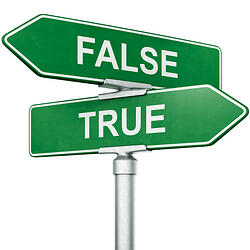 Despite being around for centuries and being used across practically all industries, there are a lot of misconceptions about the factoring loan. Much of this misunderstanding comes from not being familiar with this type of financing. In fact, factoring isn't all that different from many other types of short-term business loans.
Myth #1: Factoring Is Only For Companies With Serious Financial Problems
While factoring helps companies going through financial difficulties, it is not a sign of financial weakness in and of itself. It shows that your company is diligent in managing its finances. It shows that you have a plan to support the future growth and success of your business.
Factoring is used by companies with sales in excess of $100 million per year. Getting a factoring loan doesn't mean you're scraping the bottom of the barrel. Factoring is simply a form of financing just like a term loan for equipment or a line of credit for working capital.
Myth #2: I Only Get 80% Or 90% Of My Invoice And The Factor Keeps The Rest
Don't get confused when you hear about an 80% advance rate. All it means is that you get 80% of the invoice up front. You get the remainder of the invoice -- less the factor's service fee -- once payment has been received from your customer.
When looking at the fee charged, don't think it is money down the drain. Factoring frees up your cash flow and allows you to use those funds to generate new business or take advantage of early pay discounts with your vendors.
Myth #3: Factoring Will Cause Me To Lose Customers
This myth is tied closely to the myth that the factoring of accounts receivable is only for companies in bad financial shape. Many business owners think if they use factoring their business will be painted in a bad light when in fact the opposite is true.
When you work with a factor, it means the factor believes in your business and the creditworthiness of your customers. A finance company won't provide financing if it thinks that your business or your customers are going down the tubes.
Myth #4: The Factor Will Harass My Customers With Collection Calls
The last thing a factor wants to do is harm the relationship you have with your customers. They would be shooting themselves in the foot. The factor benefits most when you and your customers are successful.
Any factoring company that uses strong-arm collection tactics isn't a lender you should do business with. A good factor is always courteous and professional when contacting your customers.
Myth #5: Factoring Is A Gimmick And I Don't Know If I Can Trust It
Many don't know, but factoring has been around for over 600 years! This form of financing has withstood the test of time.
Today, companies in over 70 countries use factoring to finance their business. In 2011, more than $2.6 trillion of invoices were factored. Companies large and small use factoring, across practically all industries. Factoring is no gimmick.
Don't shy away from a factoring loan because it's not a familiar concept. It's a fantastic tool that has helped thousands of businesses over hundreds of years. If you think it is something that would be right for your business, but have some concerns, talk to a reputable factoring company and allow them to walk you through the process.
Fast A/R Funding specializes in helping small businesses bridge the cash flow gap with factoring. Click on the button below, or call 888.833.2286 to explore your options in improving your cash flow.