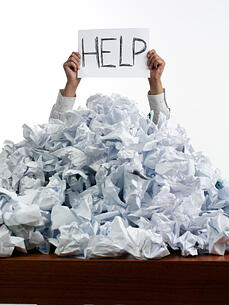 No matter what industry your business serves, there's something very critical you must be as a business owner to be successful: organized!
To be organized, you must be a planner. So many business owners and managers are constantly struggling to stay organized and keep their heads above water. They're not planning their cash flow:
Figuring out how much cash is on hand
What vendors are coming due
How much inventory needs to be purchased
What receivables are coming due and which ones need to be collected
Miscellaneous expenses
Now maybe you're sitting there thinking well, part of my problem is my receivables. I have a difficult time collecting and some of my customers just pay super slowly. If that's your situation, then you need to look at alternatives to bridge that gap between when an invoice is billed and when it is collected.
You're not going to have an organized and efficient cash flow if your customers are paying in 30, 60 or 90 days. It just doesn't work. You must have your hands on your cash to effectively and efficiently run your business.
Your Options
You need to get your hands on cash just to meet your daily needs:
Friday payroll
Pay vendors
Buy inventory
There are a few options:
Find an investor willing to take a chance on your company.
Make sure your accounts receivable collections are fast. This is easier said than done and you probably wouldn't be reading this blog if this was really the case.
Consider some form of short-term financing.
Short-Term Financing
One of the quickest and easiest forms of short-term financing is invoice discounting. Invoice discounting is another term for factoring. Factoring is a form of accounts receivables financing where you sell your creditworthy receivables to a third party (a factor). Advance rates vary, but are around 80%. When the invoice is paid you get the remaining portion less any applicable fees.
How It Helps You
It's pretty simple: by looking to invoice discounting (or factoring), you get your hands on the cash you need to pay the bills. Rather than waiting 30, 60 or 90 days, you get your money up front. You are able to get organized and plan out your cash flow.
In addition, with advances in technology, you are able to get funded on an invoice in as little as 24 hours. Depending on the company you go with, it is virtually paperless, making for a very efficient process.
A nice perk to factoring is the factor monitors your aging for the invoices you factor. They play a helpful role in making sure receivables are collected because they have a vested interest in the invoices being paid.
Some Helpful Tips
Now you understand that invoice discounting or factoring allows you to get your hands on the money you need fast and efficiently. There is a price that comes with factoring, but it won't break the bank.
Here are a few tips to save you time and money:
If you find cash is cramped only occasionally, look at factoring select invoices during those times.
Factor receivables only from your strongest, most creditworthy customers. They are the ones who pay faster and save you money in factoring expenses.
If you offer quick pay discounts, consider ending them. When you factor an invoice, you already have the cash. Also, quite often, customers take advantage of the quick pay discount even if they're paying past the quick pay deadline.
We hope you've found this advice helpful and it gets you on track to a more successful future. Good luck!
Fast A/R Funding specializes in helping small businesses bridge the cash flow gap with factoring. Schedule a cash flow consultation, or call 888.833.2286 to speak with one of our small business finance consultants.