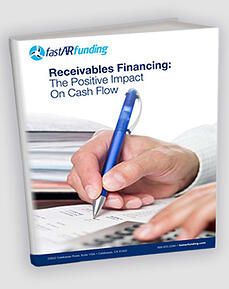 While we think there may be some improvement in the economy going into 2013, there is still a lot of uncertainty regarding how banks are going to loosen the purse strings to small businesses.
This makes life very difficult on small businesses that need help in keeping their cash flow going.
In order for your business to survive you must have access to business funding. You have to pay the bills:
Keep your vendors happy
Make that Friday payroll
Buy inventory
Grow your business
If you've sought financing to supplement your cash flow and have been turned down by banks (due to your company's seasonality, cash position, etc), you do have other options.
Bring on an angel investor. An angel investor is a person who is willing to take a chance on your company. Beware though, as this comes with a price. You lose some control and decision-making ability in your company.
Try to efficiently collect your receivables. This is easier said than done. No matter how good a relationship you have with your customers, some businesses simply won't pay for 30, 60 or even up to 90 days.
The Best Option For Your Company
The best option for your company is small business factoring to help supplement your company's cash flow and business funding.
Factoring is a form of short-term small business receivables financing where you sell the receivables of your creditworthy customers to a third party known as a factoring company. Advance rates vary, but are typically around 80%. Once the invoice is paid, then you get the remaining portion back less any fees.
How It Benefits Your Company
Factoring is a great way to bridge the gap between when you bill and invoice and collect the cash.
In today's economic climate, turning to a factor for receivables financing is a great way to get the cash necessary to run your business. Yes, there is a cost associated with factoring. However, it's a small price to pay to make sure you have the cash on hand necessary to conduct business.
Factoring is considered short-term financing, so you're not indebted to a bank for an extended period of time.
Some Helpful Tips To Make Factoring Easier For Your Company
Some things to do to make the factoring process a little more efficient include:
Make sure all of your customer contact information is current. This helps the factoring company, as most factoring companies have an extensive due diligence process that includes invoice verifications.
Utilize accounting software. This efficiently organizes your books and records.
End quick pay discounts. By factoring, you're getting the cash you need. Customers often take the discount even if they pay late.
While there appears to be some economic recovery in 2013, it is still difficult for a small business to obtain financing. During our time in the commercial finance industry, we have seen how factoring has really helped business successfully improve cash flow. Good luck!
Learn how receivables financing can stabilize your business by clicking below to download our free report: Receivables Financing: The Positive Impact On Cash Flow. Ready now? Get started today with your own factoring program by calling 888.833.2286 or fill out this form to speak with a Cash Flow Consultant.