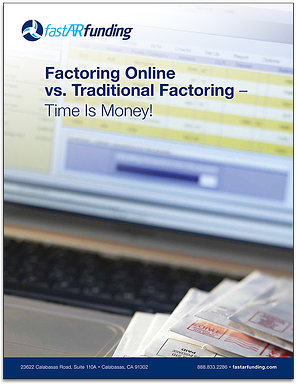 Factoring is used by large and small businesses across practically all industries today.The transportation industry is no exception to this. Trucking companies across the country use factoring to improve their cash flow and keep their trucks on the road.
The nature of the industry, though, is that you tend to be on the road a lot. You can't drive a truck sitting in an office. That makes it difficult to organize and send in the paperwork that most factoring companies require.
The key to truck factoring is that you need to be able to do the entire process, start to finish, from the road.
Online Factoring Makes Truck Factoring Easy
Being able to submit invoices and request funding online takes care of one of the biggest hassles of truck factoring, working around an odd schedule. When you're on the road, you're not working a 9 to 5 job. It's not unusual for you to be unavailable during normal business hours.
The internet is available 24 hours a day. With online factoring, you can take care of business anywhere you have an internet connection, any time of day.
The Days of Dealing with Paperwork are Gone
No one likes dealing with paperwork. Though, some paper is inevitable in the world of logistics. You probably can't get away from packing lists, bills of lading and lumper receipts that are all on paper, but you can use a factoring company that doesn't require you to mail all of that in.
As long as your customers don't require an original copy of a document, there's no need to bother with mailing your paperwork in. You can take a picture of it or scan it in. When everything is electronic you don't have to be in the office to submit information to the factor.
An Online Paper-Free Process Makes Truck Factoring Quick and Easy
The combination of a paperless process along with an online system that's available anywhere and anytime that you have an internet connection makes for financing that's quick and easy.
You can manage the entire truck factoring process during the downtime that you have on the road, even when you only have a few spare minutes. The entire process is straightforward and streamlined.
Tips To Get the Best Bang for your Buck
The goal of trucking factoring is to smooth out your cash flow. Knowing that you have access to cash as soon as the load is delivered makes managing your expenses easier and lets you sleep well at night.
To really get the most benefit out of factoring, consider this:
Use the extra cash to pay for the items that keep you on the road, making money. The biggest items in this category are fuel and maintenance, but include a wide array of smaller items as well.
Factor the customers that pay quickly. This may seem counterintuitive, but factoring your best customers improves your cash flow while keeping the factoring fees at a minimum.
Submit your invoices as soon as the job is complete. In most cases that's probably when your truck is unloaded and all the paperwork is signed. The sooner you submit your invoice to the factor, the sooner you get funding.
Building Your Business on the Foundation of Factoring
As a business owner, you already have too much on your mind. It's difficult to balance the financial side of the business, take care of all of the administrative items and actually get real work done too. Truck factoring doesn't solve everything, but it makes the uncertainty of cash flow much more manageable.
When your cash flow is steady, you can focus on leading your business in the right direction rather than chasing it off a cliff. Your time and energy can be spent on things that will improve your business instead of chasing lose ends to keep the business from unraveling.
Factoring provides a firm financial foundation on which to build your business. It gives you access to much needed capital that keeps everything running. A well-capitalized business often makes the difference between success and failure. Try it for yourself and see just how much factoring can improve your transportation company.