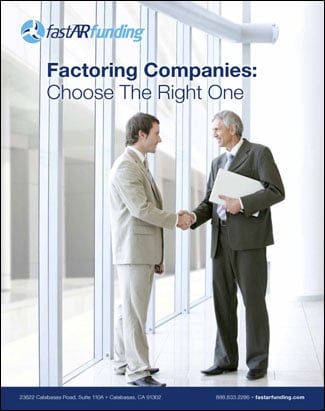 Taking an advance against your invoice(s) creates cash flow for your business. Factoring is a tool that many business owners use to expedite growth and smooth out cash crunches, among a variety of other reasons!
With so many factoring companies vying for your business, how does one find the best factoring companies in the industry today? Below is a list of important issues to look out for and consider when doing your research.
Understanding your industry – Take cues from your conversation. Does the factoring company understand the ins and outs of your industry? You can easily assess whether they understand your industry by the questions they ask. Do they understand your payroll requirements, billing methods, insurance requirements, bonding issues? Are they familiar with the type of back up documentation required for your invoices? Can they forsee the potential problems your industry runs into? A factoring company must be able to understand your business in order to best serve you and your funding needs.
Competitive Terms - The proposal you receive from a factoring company must be competitive. With that said, the perfect program for your company might not be the same for another. The best factoring companies in the industry are careful to provide competitive rates (this does not always mean the lowest rates out there…..sometimes you "get what you pay for), as well as flexible terms that allow the client to use the factoring as needed. Keep a close eye out for contract terms, monthly minimums, hidden fees, and paperwork requirements.
Creativity – Does the factoring company you are considering say "yes" or "no" to most of your requests? Do they "think outside the box"? All businesses are different, even within the same industry. It is important for your factoring company to understand how your company works and what makes it tick. Don't be afraid to ask for what you need. The best factoring companies are innovators ready to make decisions quickly and willing to adapt their procedures to suit your funding needs.
Reputation – The best factoring companies in the United States tend to have a presence. In this day and age that typically means an online presence. Do your research by investigating a factoring company's presence online. What do business owners have to say about the factoring company you are considering? Look for well-established and interactive factoring websites that are informative and easy to navigate. These types of websites are typically directly related to well-established and financially stable funders.
Customer Service – When someone tells you who they are, believe them the first time! Keep a close eye on how you feel about the customer service you receive. Are they listening and understanding your needs? Are they attentive and responsive? A quick turn-around is expected in the factoring industry. Response time is usually an indicator of how interested a factoring company is in your business needs as well as a key indicator as to what you can expect for the future of the relationship. When all else fails, be sure to listen to your gut! It's usually right…..
Make your list and check it twice. Establishing a factoring relationship can be very beneficial, especially when you align your business with a funder interested in a long and successful relationship with your company.
Speak to one of our Cash Flow consultants today, and get the financial stability your business deserves 888.833.2286