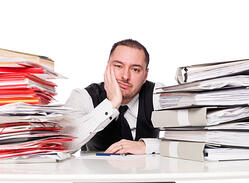 In my tenure in the commercial finance industry, I have learned a lot about what to
do and what not to do when it comes to running a business. One thing you must do
to successfully run a business is to
stay organized.
Some things you have to keep organized are:
Accounts receivable collections management
Cash flow planning
Customer base (and thus revenue) growth
If you feel you've struggled with keeping these things organized, then there is no time like the present to turn things around.
Improving Cash Flow Options
If accounts receivable collections and cash flow planning are a struggle for you, then you should explore some options.
Make sure your accounts receivables adequately turn. We all know that this is easier said than done.
Bring in an outside investor, also known as an angel investor. Be aware that you could possibly lose some control and decision-making ability in your business.
Invest in an invoice discounting program. An invoice discounting program is also be known as a factoring program. It is simply a form of small business or receivables financing where you sell the receivables of your creditworthy customers to a third party known as a factor. There are two types of factoring, recourse and non-recourse, recourse being the most common. Recourse factoring is where you, as the client, take financial responsibility should an issue arise with any particular invoice.
Invoice Discounting
In my opinion, your best option is to look into investing in an invoice discounting or factoring program.
Face it, it takes money to run a business. You have to:
Pay your employees
Pay your vendors
Buy inventory
You also need money to grow your business and build your customer base.
Invoice discounting gets the cash in your hands necessary to successfully run your business. The root cause of inadequate cash flow is because of how long it takes for your customers to pay.
You might have good relationships with your customers, but they still won't pay for 30, 60 or even up to 90 days. We all know you can't successfully run a business when it takes your customers that long to pay an invoice. Then you really run into trouble when you have a larger order outside of the normal course of business.
Benefits Of Invoice Discounting
An invoice discounting program gets you access to the cash you need to pay the bills. Don't forget, it's considered short term, you're not indebted to a bank for an extended period of time.
In addition, with advances in technology, you get funded on an invoice in as little as 24 hours. Depending on the factoring company you choose the process is completely web-based, resulting in a very efficient process.
Another benefit to invoice discounting is the factor monitors your aging, or at least the invoices you factor. They play a helpful role in making sure receivables are collected because they have a vested interest in getting paid as well.
Hopefully, if you haven't thought about invoice discounting to help with your cash flow woes before, then you will now. It's a great way to help keep your business get organized and get it ready for growth.
Curious about how factoring works? Download our Small Business Factoring Guide: How It Works now. Or, if you're ready to begin your factoring program -- call 888.833.2286 to speak with a Cash Flow Consultant today!