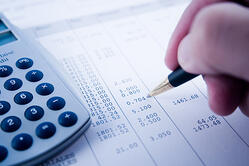 It's common knowledge to all of you business owners out there that in order to run a business successfully, you must have cash. No matter the industry you're in, cash is king.
I hear time after time how companies are generating revenue, yet they hardly have any cash for normal day-to-day operations. In other words, you're billing your customers, but your customers are taking too long to pay. It takes some businesses 30, 60 or even 90 days to pay.
If you're a business owner who is actively involved in financial planning and your company is still struggling with cash flow, then you should research options to help supplement cash flow.
Your Options
There are many ways to supplement your cash flow while you wait for your customers to pay:
Bring on an outside investor. An issue here is you lose a piece of ownership in your company as well as some decision-making ability.
Traditional bank financing. This takes some time to obtain and ties you up with an extended contract with the bank.
What Is Factoring?
Factoring is where you sell your creditworthy business invoices to a third party known as a factoring company. Advance rates and pricing vary, but are typically around 80%. Once the invoice is paid, then you get the remaining portion back less any applicable fees.
If you own a business with multiple operating cycles and a lot of seasonality, then factoring helps you bridge the gap between when an invoice is billed and cash is collected.
Factoring strengthens your cash flow so you no longer have to worry about paying the bills. You're able to plan out your cash flow better and:
Make that Friday payroll.
Purchase inventory.
Pay your vendors.
Focus on business development and grow your customer base.
Research Factoring Companies
If you've started the search for the perfect factoring company, then you've seen that there are lots of them out there. There are a lot of things to consider:
Is the application process quick and easy? Depending on the factoring companies you look at it is done all online.
How quickly does the factoring company respond to your application?
How quickly do customer approvals take?
Differences in pricing plans.
Do you have to factor all of your invoices or just the invoices that help with your immediate cash flow needs? (Some companies let you factor select invoices, saving you money in factoring fees)
Do you feel comfortable dealing with the factoring company?
Does the factoring company have good customer support?
What kind of background experience does the management of the factoring company have?
While this is a very extensive list of criteria when searching for a factoring company, these are all incredibly important items to consider. You want to engage in a financing agreement with a factoring company that is fast and efficient. You want to know that the factoring company you're working with has strong, skilled and experienced management and staff.
You know HOW to select a Factoring Company, now lose the myths about factoring. Download our Free Tip Sheet, Online Factoring: Myths vs. Facts now or call 888.833.2286 to speak with one of our small business finance consultants.