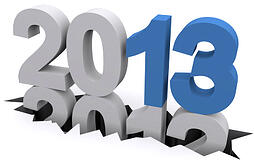 As 2012 draws to a close it's time to reflect on the past year's events. There are a lot of small business owners out there who are able to sit back with a sense of relief, saying:
Revenues were strong
Expenses were managed well
We reported a profit
We didn't have any cash flow issues
Some of you out there might be sitting back saying:
Revenues were okay
We had a hard time managing expenses
We really struggled with cash flow
If you fall under the second set of bullets then you may want to listen, because what we're about to share with you could really help you more effectively run your business.
There's one thing you need to efficiently and successfully run your business: CASH! It's simple: cash is what you need to:
Make that Friday payroll
Keep inventory on hand
Pay your vendors
The best ways to get your hands on cash:
Find an investor who is willing to put a little extra money into your company.
Quickly convert your receivables to cash.
Consider short-term small business financing like accounts receivable factoring.
If you are small business owner who really struggles with planning ahead, now is the time to change your ways. Going into 2013, make a New Year's resolution for your business and look at putting together a game plan to change the way you plan out your finances. One way to help your cash flow woes is accounts receivable factoring, or invoice funding.
What Is Factoring?
Simply put, accounts receivable factoring is a form of short-term financing where you sell your company's receivables relating to creditworthy companies to a third party known as a factor. It's typically at an 80% advance rate. Once the invoice is paid you get the remaining portion back, less applicable fees.
In today's economic climate, turning to a factor for receivables financing is a great way to get your hands on the necessary cash to run your business. Bank financing is difficult to secure and even if you are able to secure bank financing, it is costly and you're indebted for an extended length of time.
There is a cost associated with invoice factoring. However, it's a small price to pay to make sure you have the cash on hand necessary to conduct business.
The Nice Thing About Factoring
The nice thing about factoring is, depending on the company you chose to factor receivables with, it is relatively simple and factoring online can be arranged in as little as a few days.
Factoring keeps you from stressing over waiting for customers who pay in 30, 60 or 90 days. You don't have to worry about one order cramping cash flow. When you factor your receivables, you get your hands on the cash you need immediately to pay your employees, pay your vendors and keep your inventory fully stocked.
Going into 2013, consider setting your business up with a factoring line. In the long run, it saves you a lot of time and stress and helps you to successfully run your business.
Fast A/R Funding specializes in helping small businesses bridge the cash flow gap with factoring. Click below to improve your cash flow for 2013, or call 888.833.2286 to speak with one of our small business finance consultants.