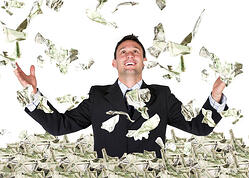 2013 is full of promise and opportunity for
your business. Even though there may be challenges, there is always opportunity. Winston Churchill once said, "A pessimist
sees the difficulty in every opportunity; an optimist sees the opportunity in every difficulty."
Seeing your business succeed this year is all about being prepared. The most important way to be prepared for opportunity is to have proper financing in place for your business. Without adequate funding, you'll never be able to take advantage of opportunity when it arises.
Fast business loans are the perfect solution this problem. You need financing that is ready to go at a moment's notice. You don't want to deal with mountains of red tape and paperwork that takes weeks to process, during which the chance to seize on an opportunity passes.
Options For Fast Business Loans
The fastest business loans in commercial finance are those that are based on your accounts receivable. Your accounts receivable is used as collateral and is the basis for the amount that you are able to borrow.
Businesses often find that cash gets tight when customer payments are delayed or when accounts receivable increases rapidly. Accounts receivable financing, or AR financing, is specifically geared for this. Since the amount you're approved to borrow is based on the dollar amount of the receivables outstanding, availability increases as AR rises.
When customer payments come in, the loan is automatically repaid. This makes the process very straightforward. You request funding as needed and the loan is repaid automatically.
Benefits Of Fast Business Loans
2013 is all about seizing opportunity. Fast business loans give you the means to do this.
Put in bids on large projects without worrying if you have the capital to fill the order.
Take advantage of quick pay discounts offered by vendors.
Additional working capital means more time to focus on growing your business and less time worrying about making payroll and paying expenses.
Avoid penalties and fees by making tax payments on time.
Free up cash for marketing and new business development.
Do you feel like you're running on a treadmill? Does it frustrate you that you simply don't have the resources to grow? Additional working capital, provided by a business loan, is like grease in the wheels. It's a kick-start to get your business moving in the right direction.
Evaluating Rates And Terms
The overall benefits of financing are well established; however, the cost of capital should always be evaluated in terms of its economic benefit. Put simply, every dollar you put in your business -- both debt and equity -- has a cost. You need to make sure that dollar is making more money than it costs.
The types of fast business loans we are talking about here come in two flavors. They either have a standard interest rate that is charged on the total amount borrowed or you pay a flat percentage of each invoice that you finance.
No matter the pricing method, the way you evaluate them is the same. Estimate the total amount you want to borrow and multiply that amount by the interest rate or fee percentage. Then add any other fees that are associated with the loan facility.
Take the total of all interest and fees and divide that by the amount you plan to borrow. This number is your annual percentage rate (typically referred to as the APR).
This APR is a key figure. It is what you use to judge whether it makes sense to borrow funds for a project or not. If the rate of return on a project is greater than the APR, then it probably makes sense to use a business loan to pursue the project.
Don't Let 2013 Pass You By
The success of your business this year is dependent on you putting the foundation in place to snatch opportunity when it arises. Consider the future of your company and put the plans in place for 2013 to be your best year ever.
"It is not often that a man can make opportunities for himself. But he can put himself in such shape that when or if the opportunities come he is ready." - Theodore Roosevelt
Get the inside view on the options available for accounts receivable loans. Download Accounts Receivable Loans: What Are The Options? This free tip sheet will detail how accounts receivable loans offer a reliable and accessible source of funding for your business.